This was my first 6 Towns 1 City Carnival for a few years. The last few years I had an event or Wedding on the Saturday so my Sunday focus was getting those photos processed and delivered.
The event is organised by NORSACA.
My first experience of the carnival was a very wet one if it wasn't raining then it had only just stopped and it would soon restart. This year was the opposite. Sheltering in the trees was to get out of the blazing hot sun as opposed to getting out of the rain. After a few hours I started to get concerned at how hot my camera gear as getting.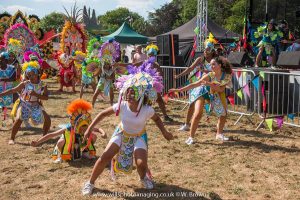 There has been a reduction / withdrawal of external funding for the event. Despite that, and unlike some other local events held in Hanley Park that do still get a chunk of funding, it was free entry to ALL areas. Donations were welcome with the 'blue buckets' touring the site.
The mix of funfair, trinkets, clothing, sweets, bar and food stalls seemed to be well balanced. The food stalls seemed to be particularly busy, more so than the bar.
The laid back approach to much of the music from the bands suited the occasion and the weather. When Matrix Club Matrix upped the tempo it was with their consummate style.
For once I actually saw the parade. Led off in style by the drummers and dancers followed by a troupe or two. I really did not envy the people with multi-layered costumes or those carrying the focus-point pieces.
It was a good event at which to just mingle, relax and enjoy. Roll on next year, funding permitting, and please book the sunshine again.